Pre-order: The Woman & The Rabbit
PUBLISHED 14 FEBRUARY 2014
PAPERBACK AND E-BOOK EDITIONS
Also Available: An Argument for Sin
Seen & Heard: William Boyd and Paul McCartney
REVIEW: NOVEMBER 2013
I'm pleased to have a forum to review books, films, theatre and music that's on the radar. Two generation-defining subjects take my fancy this month.
SOLO by William Boyd (Cape, 2013)
First off, a confession: I'm resistant to neuva Bond. Popular publishing began in the eighteenth century with an unashamedly exploitative work, Samuel Richardson's Pamela, and plummeted downwards to the twentieth century pit of sequels that vomited parodies of Rebecca and The Time Machine. Bond was easy pickings for the exploiters. I'm not of the snobby school that denies him literary value. On the contrary I've always believed – along with Kingsley Amis and Anthony Burgess – that Ian Fleming is an author of substance. First, he's every bit as much a stylist as Hemingway. Secondly, the Cold War world he cartoons is best ingested in the satire that is Bond. And the character – for those paying attention – is as rounded as Copperfield, Pip or Mr Darcy. This is the key. Fleming's Bond works in broad strokes and in miniature. We can absorb him in the incidentals (Bond likes Patrick Leigh Fermor and Charles Laughton, he hates tea); or we can tune to the subtleties (he lacks empathy but not compassion, he accepts his historical destiny as a political instrument and grows in objective awareness as the series unfolds).
The trouble is, in his many reincarnations in the hands of Amis, John Gardner, Raymond Benson, Christopher Wood, Sebastian Faulks and William Deaver he has become a meme, Mona Lisa with a moustache, inaccurately understood but robust enough to carry the joke. And so he pertains as a gift to commerce and a loss to art, miscast and misunderstood.
In such mindset I encountered William Boyd's reworking. I had liked Gardner's first book because he knows how to structure a thriller (The Werewolf Trace is immaculate), and had been bored by the applique flourishes of  Faulks and Deaver. But Boyd started well by focusing character over action (the trap Faulks and Deaver fell into) and teasing us with a Freudian invitation into Bond's dreams. We begin with young Lieutenant James Bond landing in Normandy as part of 30 Assault Unit assigned to locate and destroy a Wehrmacht cipher machine, and almost dying. This vignette hangs there, mushed between a hotel flirtation with a random sexy woman and M's latest directive for Bond to neutralise a rogue element in an African civil war, and says much about Boyd's assimilation of what Amis called "the Fleming way".  Bizarre at it seems Fleming-Bond is as much about tallies as Walt Whitman. The Fleming effect accrues through layers of self-reflection, observation and reference that root the reader in a psychic and physical landscape that is familiar, if Magritte-inflected. So Fleming-Bond is depressive but with reason, since his job requires him to kill people (the dark meditations at the end of Casino Royale and the start of Goldfinger), and loves eggs, once they're laid by French Marans hens (Thunderball). This issue of disparate content balance is inviolable: lose the tallies and you lose James Bond and end up with Pierce Brosnan, a man in a suit with a gun. "Pas mon style," Boyd's Bond deduces just a couple of pages into Solo, revealing sound, prescient orientation.
Boyd is of course African by birth and his fictional Zanzarim, which could be Uganda or the Ivory Coast, has an immediate credibility so often lacking in thriller Ruritanias. Bond must remove a rebel leader to stabilise the recently oil-rich state and facilitate western trading. This plot core is old hat but Boyd succeeds as Fleming did, by dexterous circuitousness. The dreamscape opening that pushes the plot into non sequitur echoes in a two-tier story where Bond's achievements are equivocal. He fights a guerilla war in Africa in part one (almost dies), and becomes a stalking assassin in Washington in part two (a conditional success). Along the way there are the metaphors, prurient whispers and burst balloons, principal of which is his fated fling with Hammer movie queen Bryce Fitzjohn, a clear twist on the true-love-denied Tracy di Vicenzo. That Bond is left with blood on his hands and a laden conscience that makes him vanish in the dawn augurs well for Boyd's return. No author who has followed Fleming has plumped the character. But by fidelity to the patent and respectful attention to the darkness in Bond's psychology Boyd has come close.  Solo is worthy faux, barring Bond's use of the f word and an unforgivable glass of Valpolicella in a good street cafe.
NEW by Paul McCartney (Hear/MPL, 2013)
Paul McCartney is the George Bernard Shaw of contemporary music: optimistic to the point of comedic, age-resistant and revolutionary. I recall with amusement a very hip, bewhiskered music exec dissing him over dinner chez moi on the basis that he wasn't as radical as Kurt Cobain. The joke of course is that Macca is the very definition of rock 'n' roll. Everything about his career is unconventional and his personal defiance against the vicissitudes of time itself consecrates him as the ultimate rebel. No one rocks like him. He created heavy metal with Helter Skelter and placed the art song snugly in pop. He was the one who introduced avant-garde to the Beatles. He was the architect of the phantasmagoria that was Sergeant Pepper. He held together the dissonant parts for Let It Be and the sublime Abbey Road. But still he's undervalued. My key gripe is the wall of ignorance about his lyrics. The poet Adrian Henri has accurately reported his poetic uniqueness but cloth-eared critics still turn up their noses. Of particular jaw-dropping offence was recent biographer Howard Sounes's ridiculous dismissal of Flowers in the Dirt's Motor of Love as "hardly a song". Motor of Love is inarguably a major work sonically and lyrically. It's about Macca's father, Jim, and the role model values that help children's survival. It's lean and mean, and therein lies its greatness. Indeed, Macca's mimimalism is what's special about him. He works his words like a miniaturist, rounding off gigantic emotive moments with modest but razor-sharp phrases. The words "Blackbird singing in the dead of the night" have encyclopaedic resonance. And the lyrical mourning in Driving Rain, the first album released after the death of his great muse Linda, presents the most riveting, honest autobiography since Bertrand Russell's.
"Reading" McCartney is a game yet unplayed and there's gold in his new chapter, characteristically called New. Spiritually Macca is now recentred. Heather Mills is behind him and his new love, Nancy, has anchored him emotionally – but that doesn't prescribe retreat. Rather, New is a long walk through a long life cued, like his last two albums, on memory. Queenie Eye, the single release, refers to the Irish childhood game of "who has the ball" but this is allusive and angry. "Life's a game, rags from riches, dogs and bitches" barks Macca, paving the path to Early Days, where he reflects on his Liverpool teens hawking songs in frequent anguish: "So many times I had to change the pain to laughter just to keep from getting crazed." Laughter, of course, is the great redemption, a resource neither Lennon nor Harrison could access but Macca can't do without: it's there in the Brian Wilsonesque instrumental arrangements, the witty Ringo beats in Queenie Eye, the namecheck for I'm a Celebrity … Get Me Out of Here. This congenital buoyancy is McCartney's lodestar. The suspicion that Save Us is an authentic existential quantifier, or that the "one dream that did not come true" in On My Way to Work stubbornly laments Linda is meticulously leavened by the camaraderie call to Appreciate and the can-do prompting in Everybody Out There where he urges us to "do some good before you say goodbye."
The fact that McCartney is rock's most productive survivor is a critical burden for him in the youth-locked music press. But his endurance and the fluency of his skills has elevated him to a different cultural echelon where he stands with another breed of artist. That doesn't mean the ride is any easier. Bernard Shaw was derided for half a century until the scope from Man and Superman to Back to Methuselah was properly contextualised and understood.  By the evidence of its lyrical treasures alone, Macca's New is a treat for coming generations.
Cineaste Summer 2013 Issue
MICHAEL CONTRIBUTES TO THE SYMPOSIUM ON
THE ART & CRAFT OF FILM BIOGRAPHY


New Fiction: The Beautiful Corner
PUBLICATION DATE TO BE ANNOUNCED
A COLLECTION OF 20 NEW SHORT STORIES INCLUDING THE HENNESSY AWARD WINNING "BACCY"
Reissue: Sean Connery: The Biography
PUBLISHED 31 OCTOBER 2012
TO CELEBRATE THE 50TH ANNIVERSARY OF SEAN CONNERY'S "DR NO"
VIRGIN/RANDOM HOUSE HAS RELEASED A NEW KINDLE EDITION
New in Paperback: Robert Redford: The Biography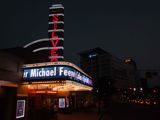 Above is a scrapbook of recent activities. Main picture: Michael at the Casbah Club, West Derby, Liverpool, with Pete Best, filming for The Magical History Tour webcast. Second Row, left to right: 1) Michael discusses the making of Butch Cassidy and the Sundance Kid at the American Film Institute Theater, Silver Spring, Maryland; 2) The AFI theatre in Silver Spring, Maryland, June 2011. 3) Book signing at the Palm Springs Film Society. Third Row, left to right: 1) Mike directs actor Mat Horne near Holyrood Castle, Edinburgh for Channel 4′s SOUNDS FROM THE CITIES, February 2011. 2) Directing actress Frances Wingate in Nottingham Forest in March 2011. 3) Pre-film discussion with Pete Best and production supervisior Roag Best for The Magical History Tour at the Casbah Club, West Derby, Liverpool in July 2011.
Excerpt: An Argument For Sin
An Argument for Sin, "an excursion" in 110 new poems, is published on 14 August 2013. Below is a poem from the collection. The illustration is from Mike's working journals (See Poetry Notebooks tab).
WHAT WE LEARNT ON THAT WALK
By Michael Feeney Callan
Went for a walk yesterday and talked about you.
I'm carefully watching the cologne you bought me evaporate on the sacred untouched bathroom shelf.
While it declines imperfection of body and corps triumphs,
growing like mildew.
Still I am attached to plenty.
All food tastes good.
Salt particularly.
And I have come this late to understand the impossible yearning of the cameo.
We try to catch the tiger while cognition evolves.
What was once behvaiourism and analyses became humanistic psychology,
then lifts like daylight to transpersonal relief.
Our creative us is approaching.
All that evaporates is the body of fluid, the Indian gift, but neither
you nor me.
So we talked a lot about us, all of us, while it rained.
Copyright © MFCallan 2013